Raíces
recevait
Tomás Barrientos
, enseignant-chercheur à l'Universidad del Valle au Guatémala. Avec son aide, nous débutons un cycle de programmes sur l'archéologie guatémaltèque et en particulier sur le
Proyecto Regional Arqueológico La Corona
qu'il dirige avec
Marcello Canuto
, archéologue y enseignant à Tulane University, située à la Nouvelles Orléans.
Dr. Tomás Barrientos, co-director del PRALC
Foto: Cortesía PRALC/MARI, Tulane University
En ce sens, Tomas Barrientos nous propose une idée générale du site de La Corona, longtemps appelé le site Q, vassal de Calakmul.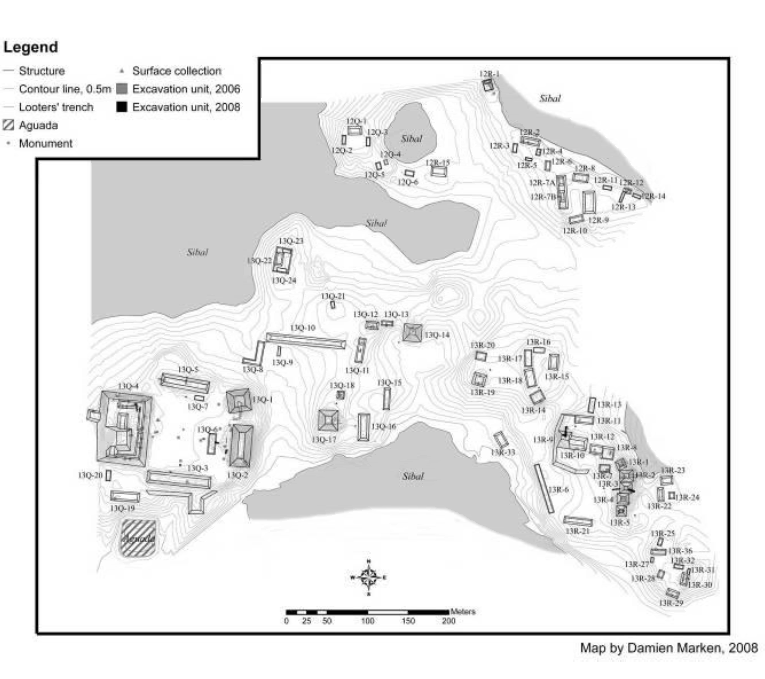 Mapa de La Corona, Guatemala.
Crédito: D. Marken, cortesía PRALC-MARI, Tulane University.
Comme chaque semaine, nous vous invitons à écouter, partager et télécharger librement ce programme depuis le portail Archive en format ogg et mp3.
Crédits musicaux
Música maya Aj, grabado en el Centro cultural La Azotea, Guatemala por Thomas Stack.

Alfredo Roel - Zazil Ha
Contacts
Bibliographie
Arqueología mexicana
, Los mayas del Petén, 137. México: Editorial Raíces.
Canuto, M. A., & Barrientos, T. (2009). Proyecto Arqueológico La Corona. Informe temporada 2008.
New Haven, Connecticut/Guatemala: Yale University/Universidad del Valle de Guatemala.< http://www. mesoweb. com/resources/informes/LaCorona2008. html>.[Consultada el 25 de abril del 2011.[Links]].
Canuto, M. A., & Barrientos, T. (2008). Proyecto Regional Arqueológico La Corona: Objetivos generales y resultados preliminares de las investigaciones en el "Sitio Q".
Museo
,
21
(25).
Canuto, M. A., & Barrientos, Q. (2011). La Corona: un acercamiento a las políticas del reino Kaan desde un centro secundario del Noroeste del Petén.
Estudios de Cultura Maya
,
40
.
Canuto, M. A., & Barrientos, T. (2011). La Corona: an approach to politics in the kingdom of Kaan from a secondary center in Norwest Petén.
Estudios de cultura maya
,
37
, 11-43.
Expositions
Événements académiques
Conférence Planos y mapas: relatos de un traslado, con Bárbara Arroyo, Alejandro Conde y Juan Carlos Sarazua, Museo Popol Vuh, Universidad Francisco Marroquín, Ciudad de Guatemala. Gautemala, 21/01/2016, de las 18.30 a las 20 horas.
Publications
Desacatos, 49,
El control democrático del Estado en Latinoamérica,
Revista de Antropología Social, CIESAS.
Nous vous rappelons que Raíces est un programme éducatif à but non lucratif sous licence Creative Commons Paternité-Partage à l'identique-Usage commercial interdit 3.0. Cette émission a été enregistré avec le soutien de S. Becerra dans les studios de Radio UDEM le 09/10/2015 et le 14/01/2016 et émis le 16/01/2016.
Partager